Permanent Installations

What is Permanent Installations? 
A Permanent Installation is a long-term rental of a photo booth for your business. Snapix Event's wants to know is your business looking to add that extra feature to their business, club or bar that can improve your marketing ability?  We are now offering the Permanent Installations Service. This incredible photo booth service adds a hassle free and powerful solution to boost your venues brand and online presence. With a Permanent Installation of our Snapix Events Digital Photo Booths your guests have the freedom to enjoy the event.  We customize each installation and create that perfect brand overlay for our client's venue.  Your guests will be able to take fun photos, GIFs, Boomerangs, and Videos while your brand is enjoying the perks of user-generated marketing. With just a monthly rate to install the photo booth at our client's business, Snapix Events takes care of the rest. Our software and digital technology will make sure your guests receive their photos by text or email, then they can share them on any social media platform.  What a great way to engage with guests and customers!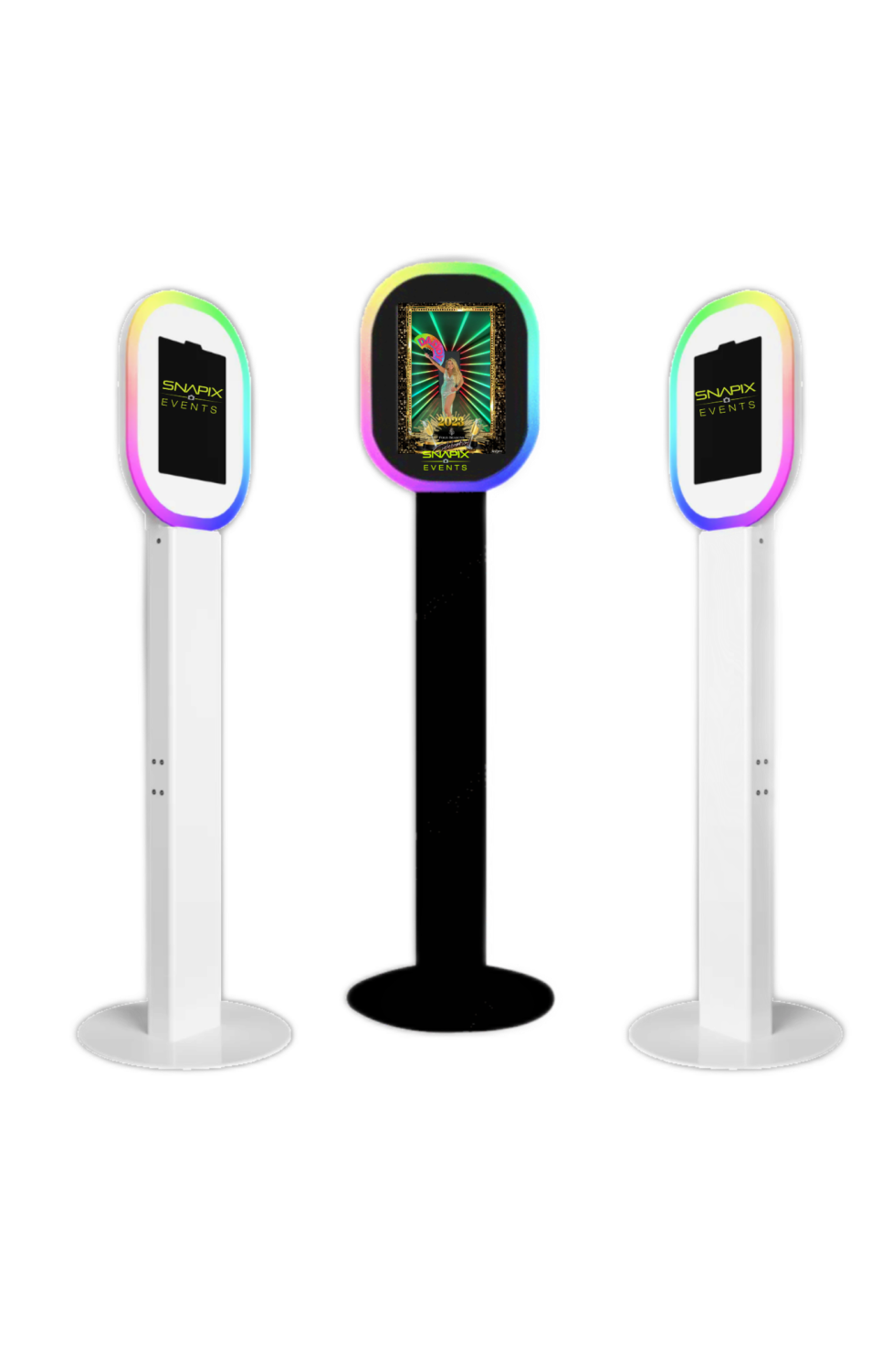 Snapix Events installs these amazing Snapix Digital Photo Booths with our Permanent Installations Service.  Easy to set up and move around to the desired location in your business, restaurant, or bar.  Your guests will love the added feature and come back to visit your place again! 
SPECIFICATIONS
Snapix Digital Booth Shell White/Black
Dimmable LED White Light
LED Lights & Digital Props
Head Unit: 18″ x 14″ x 3″
Screen Cut Out:
7.75″ x 10.5″ or 12.9″ Across 
   (Fits an iPad Pro 3rd/4th Gen)
Base Plate: 17″ in diameter
Upper Leg: 20″ x 6″ x 3″
Bottom Leg: 20″ x 6″ x 3″
Weight: 34lbs
Snapix Digital Photo Booth

Permanent Installation Photo Booths Work for Your Brand!
Here at Snapix Events we know how critical branding is to your business. The Snapix Event's Team does all the work flow behind the scenes, designing custom templates, digitals props, and maintaining service to the Permanent Installation so it will run smooth.   A Permanent Installation is a great way to interact with your customers and add an extra benefit to the package deal!  Your guests will be able to recall your slogan, logo, or type of business when it is the frame around their picture with the cherished memory . This will build positive interactions and opinions on how they see your business. Your business will stand out above all others and guarantee a very good chance of repeat guests and gain new patrons as well.
 Sharing on Social Media Made Easy!
Snapix Event's Permanent Installations Photo Booths let you create custom hashtags and fun photos to drive more followers to your social media platforms. In today's world of marketing it depends on social media posts, likes, comments, and shares to assist in networking your brand quickly and efficiently. It is time to take advantage of this incredible way to promote your business and build your cliental, after all, photo booths are on the rise in popularity. 
 Social media platforms have been the most popular way to attract new customers, get feedback, connect with potential venues, and build a network of clients. Platforms like Facebook, Twitter, Instagram, and YouTube are among the most popular to use.  In today's society, everyone takes photos and posts them on a social media platform, after all it is one of the most popular ways to be seen and heard. Who doesn't do it?  And when that happens your brand will be shared everywhere with views and reviews across the World Wide Web and eventually build a huge loyal customer base.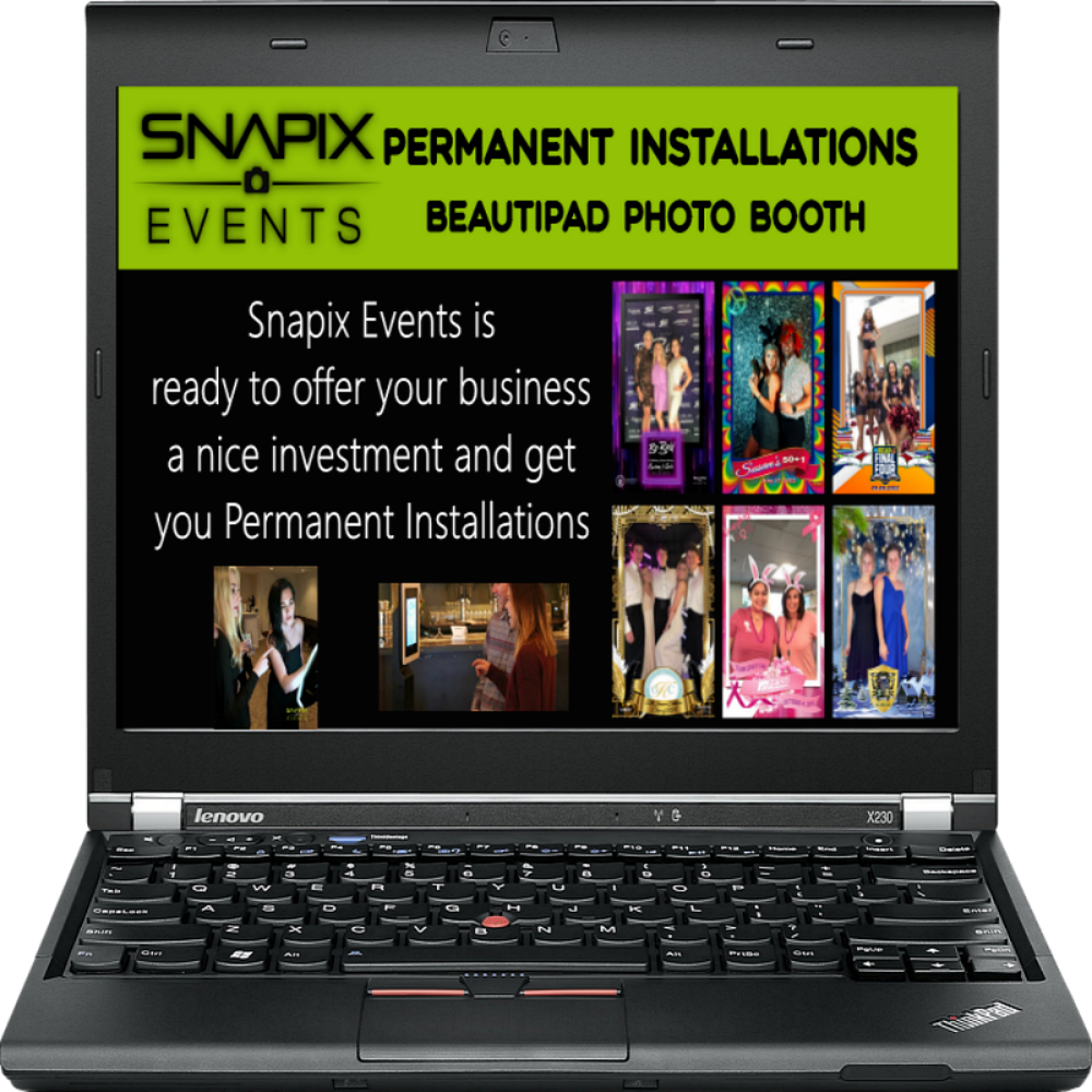 Branded Microsites
A permanent install is a long-term rental of a photo booth for your business.  By installing a permanent photo booth, you get your own Branded Microsite.  Usually, it consists of a single web page that helps you to connect with users.  Microsites are a powerful tool, especially if you're bolstering your marketing program. A photo booth microsite has all the images that users can access in one place. This is a online photo gallery website where your guests can look at their photos and share them freely.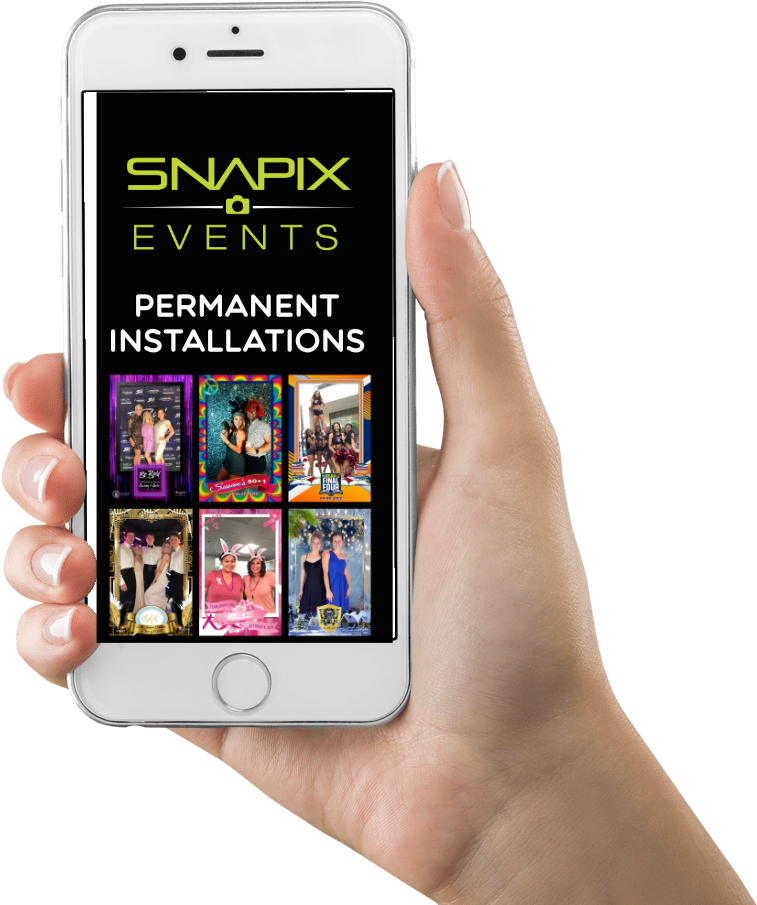 BRAND AWARENESS
Snapix's Permanent Installations creates the clients branded overlay. It is easily branded responsive and interactive booths that include lighting, digital props, effects to reflect guests' desired look. In return it will help generate traffic and increase sales by sharing your brand
DATA CAPTURE
Advantaged promotions and facilitate sponsored content with all your data, content and analytics can be available. Create guests and customers contact details for future deals and invitations for special events.
SHARE CONTENT
Maximize engagement and let customers do the heavy lifting by exposing your business and branded content in real-time through their own social media networks. Also, guests will enjoy sharing their photo to all their social media platforms as well. The possibilities are endless to promote your business!

It's A Wrap! 
 Looking to add some personality and branding to your photo booth? The vinyl wrap is the perfect solution! Customize the look and feel of the Snapix Digital Booth with any design or logo you want. Whether you're looking to promote your business, a client's business, or just add a bit of fun to your event, this vinyl wrap is a great way to do it.
Inquiry about adding this great feature to your Permanent Installations Digital Booth at booking.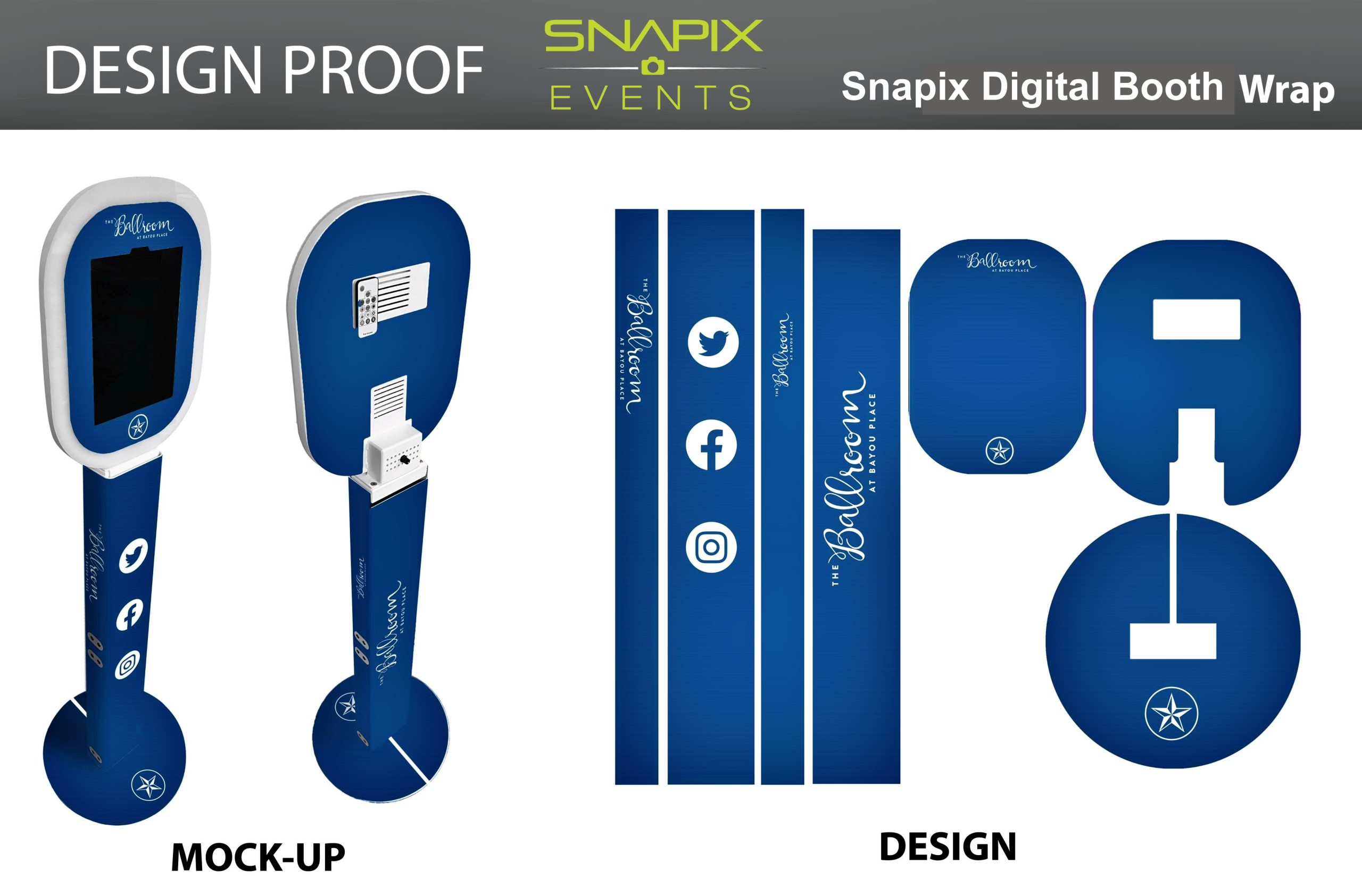 Check Pricing OR Book Now! 
Fill out form below and we will be in contact with you very soon